Jasmine Barber,
Director of Student Programs
Jasmine Barber is a graduate of the University of Maryland Eastern Shore with a Bachelors of Arts, with studies in Social work and Sociology. Gifted to inspire growth, she is devoted to combining her passion for the arts with her passion for children and families, to foster a cohesive relationship among communities and those in need. She began her love for and involvement with the arts at the age of 2; when prompted to sing solos at church, in her hometown of Philadelphia, PA,. Since then, she has been involved in stage plays, musicals, dance productions, orchestras, choruses, choirs, and independent and student films. From performer to director, and even crew at times, she has always found a sense of fulfillment and belonging in production. After graduating from UMES, Jasmine became involved in the development of programs and support systems in Education, Human and Social Services, in the DC Metro area, before relocating to Southern California; where she is currently completing a Master's of Education in Arts Integration.
Jameelah Nuriddin,
Teaching Artist (2015-17)
Jameelah Nuriddin is a native of Atlanta, Georgia and began acting in films in her early teens, playing opposite such notable actors as Don Cheadle, Cicely Tyson, and Kimberly Elise. While in Atlanta, Jameelah worked with the Alliance Theatre and attended the Magnet School for Performing Arts; she has also studied in New York under Larry Silverberg — world-renowned expert of the Meisner Method — forming the foundation of her craft. A graduate of the University of Southern California, Jameelah holds her Bachelor of Fine Arts degree in Theatre with a minor in Film. Over the course of her professional and college career, Jameelah appeared in over 18 TV spots and films, and performed in over 24 theatrical productions for the stage including: the Warner Bros. Feature film ATL, The DISNEY REDCAT Theatre's Cut, and most recently starred in the Off-Broadway run of Innocent Flesh. A passion for teaching and inspiring in the arts, she's taught theatre widely over the globe: a Children's Orphanage in Indonesia, Middle-school students in MacArthur Park- LA, and even sessions with inmates of NORCO California State Prison.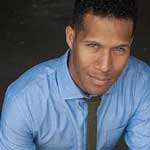 Lodric D. Collins,
Teaching Artist (2014-17)
Lodric D. Collins has performed in a diverse range of productions, from Baldwin's Blues for Mister Charlie to Shakespeare's Love's Labour's Lost. He has a recurring role on the television daytime drama All My Children and can also be seen in several films, including the soon to be released Dutch Kills and recently released Last Rites of the Dead. A veteran of the United States Marine Corps. and a graduate of Southern University, Lodric also completed architectural studies at Columbia University. He is an educator, actor and producer with a genuine desire to see teens and young adults succeed.
Aubree Lynn,
Teaching Artist (2016)
Aubree Lynn is Los Angeles-based designer who works collaboratively to design and create space for live performance, film, installations, public engagement and happenings throughout the United States and internationally.  She is interested in how theatrical design and performance model and enact versions of civil society and ultimately inform, reshape & create public policy.
Meghan Magoun,
Teaching Artist (2016)
Meghan Magoun is a professional dancer and has been dancing for 20 years in a variety of styles including: ballet, jazz, contemporary, hip hop and many more. In 2017 she will be receiving her BA in dance from Cal State University, and just recently finished her scholarship program at Debbie Reynolds Studio in North Hollywood. She has performed in several music videos and was a company member of Inland Pacific Ballet for 10 years.
Dot McDonald,
Teaching Artist (2015, 2016)
Dot McDonald was born and raised in Madison, WI. She graduated from Howard University in 2012, with her bachelors in fine arts; concentration in acting. After graduating, Dot joined the Tony Award winning Children's Theatre Company in Minneapolis, Minnesota. It was the confirmation she needed to decide that she wanted to move to LA to pursue acting full time. Since her move, Dot has been seen in the Mindy Project, The Lost Kingdom, One Night Stay and most recently, Buzz Feed. She LOVES working with kids and has been recharged since teaching with the Greenway Afterschool program. Dot says that merging her passion for acting and kids has been a dream come true!
Kamahl Naiqui,
Teaching Artist (2015, 2016)
Kamahl Naiqui is a writer, actor and musician and a New York native. Having known what he wanted to do at an early age he pursued that interest earning his Bachelors Degree in Theatre Arts from Howard University. In addition to acting he has also composed music for two short films and has also released his debut album on iTunes. Having a passion towards youth development through artistic change and having experience in Theatre, TV and Film, he works to give back the knowledge he has gained and to inspire those to be leaders of tomorrow. He has enjoyed working with the students at Fairfax High School to help them explore truth and find their voice through the performing arts.
Robert Paterno,
Teaching Artist (2016)
Robert is a native Texan and holds both an MFA in Acting from Southern Methodist University and a BS in Marine Biology from Texas A&M University @Galveston. He has 16+ experience years as a teaching artist, science teacher, Higher Education administrator, mentor, and performer. He has worked extensively as an arts/science educator throughout LA, including with The Unusual Suspects, The Geffen Playhouse, The Pasadena Playhouse, Theatricum Botanicum, and Johns Hopkins' Center For Talented Youth. He has also volunteered with 826LA, Young Storyteller's Foundation, School On Wheels, and the Hugh O'Brian Youth Leadership Program. Robert has appeared in TV, film, commercials, sketch comedy, and theatre. Credits include: The Vampire Diaries (recurring); 1984 (Greenway Court Theatre); Twelfth Night (Coeurage Theatre); The Last Days of Judas Iscariot (Hudson Theatre); A Midsummer Night's Dream (Theatricum Botanicum); LA Views(Company of Angels); Elizabeth Hammond (Drive Theatre); Occupation (Sacred Fools Theatre); Candidate Confessions(Second City); The Merchant of Venice(Great River Shakespeare Festival). He is passionate about making theatre and performance accessible and available to everyone.
Maya Santos,
Teaching Artist (2015)
Maya Santos is an Editor, Director, Cinematographer, and Video Artist based in Los Angeles. She is also Creative Director of FORM follows FUNCTION, a collaborative media studio creating non-fiction videos about places.
Max Syron,
Teaching Artist (2016)
Max holds a BFA in sculpture from Massachusetts College of Art and Design. He studied in the glass department at the Gerrit Rietveld Academie in Amsterdam, The Netherlands for 6 months in 2012. His sculptural approach has developed from stationary objects into a mix of installations, temporal situations, and action documentation. He is focused on the experience of being in the present through interactions with materials such as glass, plastic, wood, air, another person, and with the spaces we inhabit. This interaction, this touch, is the search for the edge shared by body and world.
Molly Surazhsky,
Teaching Artist (2016)
Molly has an art practice that works across divergent mediums that emerge out of community engagement and archived material; Molly brings 21st century medical concerns to light. Drawing from personal and collective memory, her installations are somewhat disorientating, eerie and leave one questioning. Through a process-based practice, Molly, engages participants in an ongoing discourse exposing the precarity of current healthcare models and their global implications while appealing to collective empathy regarding illness. Molly is currently based between New York City, Miami, and Los Angeles.